CHANGE IN BODY FAT PERCENTAGE PICTURES IN 5 WEEKS
THE BEFORE AND AFTER WEIGHT LOSS STORIES THAT BROKE THE INTERNET
Franccesco has helped reshape the next version of BellyProof in person. In just 5 weeks, he finished the 25 workouts with over 35% reduction in body fat. While his before and after weight loss photos speaks volumes, it's not just an incredible visual change. We are talking about an upgraded person in terms of strength and mobility.
Look at that smile! Proud of you buddy, you killed it – and the body fat percentage pictures shows!
Loving these results! Having tried traditional training (lots of cardio, machines, low carbs) for weeks and not seeing the final cut on his belly, Julian found BellyProof. Kind of amazing to think he did this transformation in just 5 weeks.
Well done buddy, I don't think I need to tell you you've done well 🙂 Really good physique now!
Check out this impressive result by Chris.
9.3% body fat lost in 5 weeks.
Great result for Sam, here in the UK, well done mate!
---
We got this great result from Santosh. Well done buddy!
---
Impressive results for Jeff. Did you know you had the abs? 🙂
NO CALORIES, NO CRUNCHES, NO ORDINARY
FAT LOSS SCIENCE AT ITS BEST
EXAMPLES STARTING AT HIGHER LEVELS OF BODY FAT
These body fat pictures belong to a fantastic guy. He has been one of my first test subjects for the new version, due to be released. Not only he was fun to work with, he helped testing and measuring some new ideas to tweak the system further. Safe to say he did AMAZING!
He lost around 10Kg of body fat (actual fat tissue) and shifted local fat in the tummy from 34% to 18-19% over the course of 6 weeks. It was a big effort but equally a ton of fun. Beside an impressive result, there's a clear improvement in relaxed posture, co-ordination and strength. Really Amazing! Well done.
Despite having a super-stressed lifestyle, getting a horrible flu and having to travel long-distances to get the gym… he did really well in just under 5 weeks using the program dropping his body fat percentage.
It was a pleasure coaching him in person and online. This dude KILLED IT and his before and after pictures prove it!
From 117Lbs to 105Lbs, this is Steph with a great result both visually and also in terms of posture and mobility. Well done!
Wow! Incredible results from Ravi!
You may recognize this guy from some of the tutorial videos! He's famous now 🙂 You can really see the change in the body fat percentage pictures – what a journey, wow!
What a better way to stay motivated than to workout with your other half? Derek and Elaine from Los Angeles have lost over 15lbs in just 5 weeks. Derek has lost quite a bit more over the longer term (photo on the left) which goes to show an inspiring transformation.
They'll be progressing to BP3 when it's released and I'm excited to see how much more they can achieve!
Magnus lost his belly in 5 weeks, without supplements (we do recommend a few supplements to really help the process) and at home with minimal equipment. It's such a massive change when you start to enjoy exercise and look forward to the next workout.
That weird moment you realize you have abs!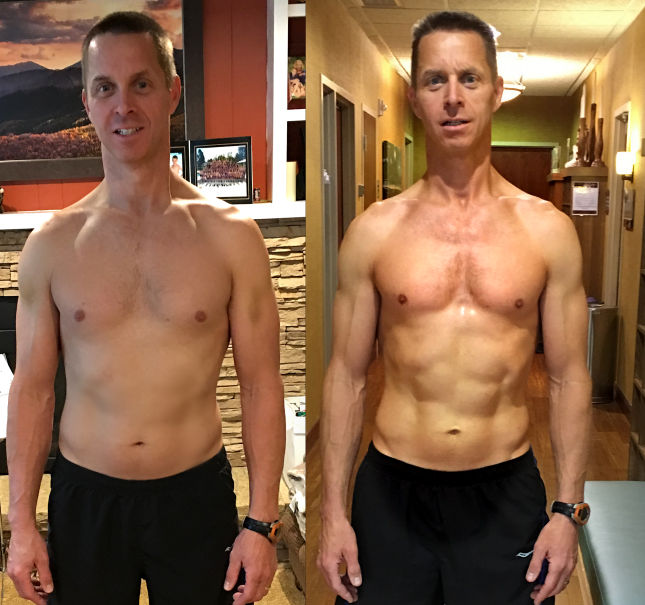 Before and after weight loss pictures from early BellyProofers
Having messed up the initial 2 weeks (and not seeing much of a change), Mehdi got in touch to ask for help.
We found out the problem and got him back on track. This is the amazing result he got in the following 3 weeks.
These two have posted their amazing results on my facebook page.
The older chap, in his words: "Pretty good results for a 51-year old!! 24% to 16% body fat in 5 weeks". In my words: My friend, you actually did far better than me, be proud! 🙂
I can't wait for these two to try BellyProof 3.0 (to be released mid 2017) and the new Calisthenics workouts they are out early next year. They have earned their free upgrade.
MORE EXTREME BODY TRANSFORMATIONS  – SOON 🙂
Finished the BellyProof program? Let's get you on the wall of fame!
MY OWN WEIGHT LOSS STORY AND RESULTS
Shhh… it's no secret that I'm a personal trainer but is this normal… after all:
Why am I so fat? Amazing results needs proof.
Believe me, this was fun! Going to the gym as a fitness professional specializing in mobility and fat loss (both non-traditional) and literally eating cake in the gym. But, having had this program for a while, I wanted to prove beyond any doubt that it's working.
So I got fat… it took weeks.. but I did it. So to the question: why am I so fat? I Answer: So I can show you how to get lean, fast using a smarter approach.
I TOOK BODY FAT PICTURES EVERY DAY
for science…
We welcome everyone who finished our program, men and women, to share their success stories. Curious about where you stand? Check the body fat percentage guide.