CHANGE IN BODY FAT PERCENTAGE PICTURES IN 5 WEEKS
THE BEFORE AND AFTER WEIGHT LOSS STORIES THAT BROKE THE INTERNET
We have a little incentive for you to start sharing your results too! Everyone who shares their before and after weight loss pictures will be awarded unlimited free access to our long-term program "BellyProof Muscle" as a thank you. We believe testimonials are too unreliable (most companies fake them & edit them), but your results cannot be faked. We also offer big commissions to bellyproofers who would like to promote the program to others, as long as you're using your results and your experience to do so to maintain authenticity.
Despite having a super-stressed lifestyle, getting a horrible flu and having to travel long-distances to get the gym… he did really well in just under 5 weeks using the program dropping his body fat percentage.
It was a pleasure coaching him in person and online. This dude KILLED IT and his before and after pictures prove it!
Loving these results! Having tried traditional training (lots of cardio, machines, low carbs) for weeks and not seeing the final cut on his belly, Julian found BellyProof. Kind of amazing to think he did this transformation in just 5 weeks.
Well done buddy, I don't think I need to tell you you've done well 🙂 Really good physique now!
Franccesco has helped reshape the next version of BellyProof in person. In just 5 weeks, he finished the 25 workouts with over 35% reduction in body fat. While his before and after weight loss photos speaks volumes, it's not just an incredible visual change. We are talking about an upgraded person in terms of strength and mobility.
Look at that smile! Proud of you buddy, you killed it – and the body fat percentage pictures shows!
Great result for Sam, here in the UK, well done mate!
---
We got this great result from Santosh. Well done buddy!
---
Impressive results for Jeff. Did you know you had the abs? 🙂
NO CALORIES, NO CRUNCHES, NO ORDINARY
FAT LOSS SCIENCE AT ITS BEST
EXAMPLES STARTING AT HIGHER LEVELS OF BODY FAT
These body fat pictures belong to a fantastic guy. He has been one of my first test subjects for the new version, due to be released. Not only he was fun to work with, he helped testing and measuring some new ideas to tweak the system further. Safe to say he did AMAZING!
He lost around 10Kg of body fat (actual fat tissue) and shifted local fat in the tummy from 34% to 18-19% over the course of 6 weeks. It was a big effort but equally a ton of fun. Beside an impressive result, there's a clear improvement in relaxed posture, co-ordination and strength. Really Amazing! Well done.
From 117Lbs to 105Lbs, this is Steph with a great result both visually and also in terms of posture and mobility. Well done!
Wow! Incredible results from Ravi!
You may recognize this guy from some of the tutorial videos! He's famous now 🙂 You can really see the change in the body fat percentage pictures – what a journey, wow!
What a better way to stay motivated than to workout with your other half? Derek and Elaine from Los Angeles have lost over 15lbs in just 5 weeks. Derek has lost quite a bit more over the longer term (photo on the left) which goes to show an inspiring transformation.
They'll be progressing to BP3 when it's released and I'm excited to see how much more they can achieve!
That weird moment you realize you have abs!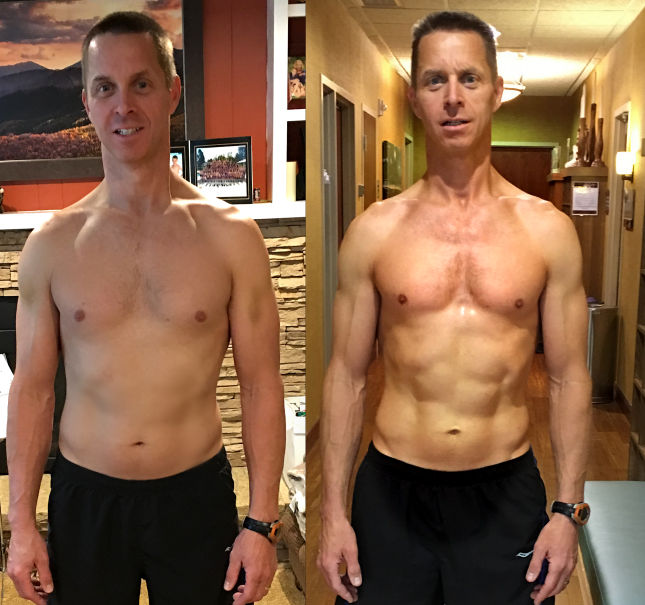 Magnus lost his belly in 5 weeks, without supplements (we do recommend a few supplements to really help the process) and at home with minimal equipment. It's such a massive change when you start to enjoy exercise and look forward to the next workout.
Before and after weight loss pictures from early BellyProofers
Having messed up the initial 2 weeks (and not seeing much of a change), Mehdi got in touch to ask for help.
We found out the problem and got him back on track. This is the amazing result he got in the following 3 weeks.
These two have posted their amazing results on my facebook page.
The older chap, in his words: "Pretty good results for a 51-year old!! 24% to 16% body fat in 5 weeks". In my words: My friend, you actually did far better than me, be proud! 🙂
I can't wait for these two to try BellyProof 3.0 (to be released mid 2017) and the new Calisthenics workouts they are out early next year. They have earned their free upgrade.
MORE EXTREME BODY TRANSFORMATIONS  – SOON 🙂
Finished the BellyProof program? Let's get you on the wall of fame!
MY OWN WEIGHT LOSS STORY AND RESULTS
Shhh… it's no secret that I'm a personal trainer but is this normal… after all:
Why am I so fat? Amazing results needs proof.
Believe me, this was fun! Going to the gym as a fitness professional specializing in mobility and fat loss (both non-traditional) and literally eating cake in the gym. But, having had this program for a while, I wanted to prove beyond any doubt that it's working.
So I got fat… it took weeks.. but I did it. So to the question: why am I so fat? I Answer: So I can show you how to get lean, fast using a smarter approach.
I'm also very thankful to all the people above who shared their results (and those who are now doing it). It's not always an easy task to shift the mindset of "I don't want topless photos of me because I'm fat" to "look at what's possible". It deserves respect, as those are live testimonies of the hard work put in over 5-6 weeks to dramatically change their body composition.
You will see that all the body fat pictures above are for people of different backgrounds, ages, fitness levels and from all walk of lives. Some of them started at a higher body fat percentage, with no fitness experience what so ever. Others, actually have a six-pack hiding under the layer of fat which they have now managed to expose by dropping an insane amount of fat in a short time.
Most importantly, the reason why they can shift belly fat is because of a smarter approach. We don't "target" belly fat per say, but we do make it less stubborn – which mean we can effectively lose it and not let it hang behind the rest of the body. This is something often missed with traditional fat loss as not only the structure is ineffective, they often neglect the distribution aspect. Fat distribution is often biased against stubborn stomach fat due to hormonal factors. By dealing with those factors, we can even out the playing field and achieve more fat loss everywhere, not just the face or the torso.
This is also true for the difference between the sexes. Male and Female fat distribution and water retention does differ due to hormonal differences. For males, it's easier to accumulate chest fat, belly fat and love handles. For women, it's love handles, thighs (thunder thighs) and under-arm fat (bingo wings).
In that respect, shutting down the factors contributing to the above becoming ever so resistant to fat loss, we can start zapping fat away, even from the most stubborn places.
You can often tell where the most body fat is lost even before it does my measuring blood circulation. If an area of the body is hot (or cold), it's a good indication of blood flow to the area and a good indication whether your will have a significant change in body fat percentage. It's not everything to go by but it's certainly not something you want to overlook.
Maintaining the "after" state
Before and after weight loss photos are often a problem. What happens once a person lost the goal body fat, will he start accumulating it again?
The answer is not so simple but when it comes to most weight loss programs out there, people often re-bound and gain the weight quickly. It's because a lot of the weight loss came from water weight and glycogen (which is easier to lose but also easier to gain back in days). This can give the illusion of fat loss temporarily until you go binging one day.
Another reason where people struggle is they are often told they need to reduce calories to the point of starvation. As soon as the process is done, what will you do? That's right – you go and enjoy life.
Most of the people shown here, have been in touch to say that to their amazement, they managed to keep the overall result. This is because we are dealing with actual fat-tissue and we do it in a clever way that doesn't mess the hormonal system, it corrects it. You can't expect to look your very best (i.e. after photo) for every single day for the rest of your life. However, if you follow the program well, and the after-care recommendations, you will find that not only you are able to enjoy life in a balanced way, but are also able to keep your body fat down to a similar level.
I TOOK BODY FAT PICTURES EVERY DAY
for science…
We welcome everyone who finished our program, men and women, to share their success stories. Curious about where you stand? Check the body fat percentage guide.